Memory Lane

If you have a Bingle memory to share, please email it to me at friends@mrbinglefans.com

A Christmas Surprise
By Jennifer Dorhauer

Things that happen along life's journey are either memorable or insignificant. Some events are forgotten instantly, but others are remembered forever. When I was a child, many things caused me extreme joy. As I got older, I forgot many of the events that had excited me as a child, but I will never forget one special day in December of 1980.

With Christmas drawing near, I was anxiously awaiting the day when Santa would bring me all my presents. Both my parents were at home, so I asked them to play Candyland, my favorite game, with me. We were having a wonderful time trying to beat one another to the gingerbread house when my doorbell rang. Daddy got up to answer the door, and like a devoted child, I followed him.

When we opened the door, we found no one there. I could easily see something sitting on my doorstep. Mr. Bingle, the mascot of the Maison Blanche department store, was perched on my porch. He was decked out in a set of bright green wings, a big red nose, blue eyes that seemed to sparkle with mischief, and soft, snowy white fur.

I was overjoyed! I immediately called my grandparents house to see if they had gotten a Mr. Bingle, too. I was bubbling with excitement and joy. My grandmother could hardly understand me as I hurried to tell her about my new toy. I told my grandmother that Mr. Bingle must have "flied" to my house. Upon learning that they did not have a Mr. Bingle, I thought I was extraordinarily special.

A simple child-like faith in Mr. Bingle's ability to fly caused me extreme happiness. As I got older, I lost some of the joy of Santa Claus, but I have never lost the joy that I felt on the day when I found Mr. Bingle on my doorstep. Each year when I take him out to use as a Christmas decoration, I feel that same joy again. To this day, I do not know how Mr. Bingle got on my doorstep. Maybe not knowing makes this memory a little more special.
Jennifer Dorhauer
---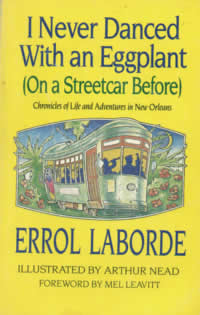 Ok,Now I will type a few words quoting Errol Laborde from his book: I Never Danced With an Eggplant(On a Streetcar Before) Chronicles Of Life and Adventures in New Orleans .
Words regarding Mr. Bingle popularity...
"Yes, Virgina ,they do make a big deal out of Mr. Bingle here,perhaps more than you realize."
"Anyway,in answer to your question I can think of two reasons for his popularity.""One is that he is the only symbol of Christmas that is unique to New Orleans."
"As for the other reason,I think it has more to do with just the sort of corney old nostalgia around which Christmas is made.""There's a whole generation of people out there who now in their professional prime, remember Mr. Bingle on television when they were kids.""They've changed ,the city has changed but Mr. Bingle still looks and talks the same."
"I first met Isentrout at what was a festive occassion,the opening night of the new Maisen Blanche on Canal St."" The store was at it's best for the black-tie-and-evening-dress-crowd.""There was food fashion,music,exhibits and toward the back on the third floor,Isentrout and Mr. Bingle." "It was not a Bingle sort of crowd except for the few native-born baby boomers who happened to pass by,some too caught up in the sophistication of the evening to fully appreciate the moment.""But Isentrout and his assistant persisted;re-introducing Bingle..." Errol Laborde
Used with permission from Errol Laborde
There is a whole chapter on Mr.Bingle and many other things unique to New Orleans in his book.It is very entertaining and informative.Thanks,Errol
---
From Ronnie Virgets article Profiling: Edwin H. Oscar Isentrout
"Isentrout never forgot how much Mr. Bingle meant to his audiences, both young and old. The puppeteer recalled the first time he took Mr. Bingle to perform at the Crippled Childrenís Hospital, and as Bingle touched a small boy, that boy struggled to straighten his hand and lay it on the puppet's. "
Paul Yacich Remembers:
Paul Yacich
One afternoon, when I was "in between" shows, my wife Rita and my daughters stopped by the studio. Rita had to take Karen to a doctor's appointment and asked if she could leave Deirdre with me for a while. That was OK with me. I knew the Mr. Bingle show would be in rehearsal in a little while and I was sure my four year old Deirdre would love to see Mr. Bingle in person.
I sat her on the stage used by the puppeteers in the Bingle show. Oscar Eisentraut, Bingle's voice and manipulator was getting in position on a scaffold behind the stage set. He saw my daughter on the stage set and lowered Mr. Bingle to the stage behind Deirdre. Then he said: " Hello! What's your name?" Deirdre turned and showing no surprise at all, answered: "Deirdre. You're Mr. Bingle. I saw you on TV!" Oscar kept a running conversation going with Deirdre for about 10 or 12 minutes. Other Bingle cast members gathered around the set to watch Bingle and Dierdre talking to each other. I don't really know if Deirdre really knew Bingle was a puppet, but she talked to him like an "old" friend. I finally had to get her out of the studio so the Bingle gang could rehearse. Oscar later told me that it was as much of a thrill talking to Deirdre "through" Mr. Bingle as it must have been for Deirdre to meet Bingle in "person." It was a scene I would never forget.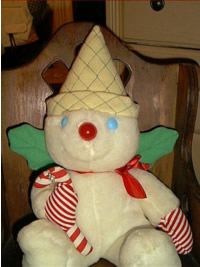 A Mr. Bingle Engagement
My Mr. Bingle Story
Courtesy DRW "Bay" in La.
My daughter and I moved to a new home in March of 96 and I just went to work and came home everyday, until that May of 97 when I opened a snowball stand and met a man who lived in my neighborhood. He would come everyday sometimes twice a day to get a snowball;we started talking, and then soon became dating on June 19,1997 by that December we started talking about getting married.He told me on December 19, that we were going to pick out my ring, but we couldn't tell anyone till Christmas Eve at my family's Christmas party, because he want only our kids there when he proposed to me.
He had wrapped my ring up; so we had to come up with a plan for him to let me open it. We decided to let each one open a gift before we left for the party. The kids opened each a present then my hubby reach under the Christmas tree and pulled out a big big box and passed it to me, I looked at him funny because I was sure he wrapped it in a small box, then I started to open my gift and to my surprise it was a big stuffed Mr. Bingle and my ring was on his candy cane. I told my hubby once about how I loved Mr. Bingle so he decided to surprise me.
Now every year I get a stuffed Mr. Bingle and a ornament to put on our tree.
Elayne's Story:
Yes go ahead and use the painting. My inspiration for painting Mr. Bingle is to celebrate the Christmas tradition. Remembering Christmas time is a very warm memory for me as I had a very happy childhood with my parents and sister and celebrating Christmas was part of that. It always so exciting. The suspense of not knowing what Santa was going to bring and also not knowing what all of those beautifully wrapped gifts under the tree were. (The tree was also so much fun to go and buy and smell and carry home to decorate with my mother and my sister). I think I have captured the warm and cheery lights that are placed on the Christmas tree. They reflect on Mr. Bingle and Son and the sleigh. The sleigh on which they are sitting is a rather antique one from my husband's childhood. I believe by painting Mr. Bingle I am recording and sharing the warm and happy memories of many children of all ages at Christmas time.
Elayne Kuehler,New Orleans
Rose's Story
I can only remember a little ----about being very young and waiting for the afternoon viewing during the Christmas season of the Mr. Bingle segment on TV. It was similar to the feeling of watching Ms. Jenny on Romper Room. (A big world out there-but shows and people and characters close to home . I always wondered how you get to be on the show. My grandmother cared for me while my mother taught school. We lived about 15 minutes apart. I can remember timing was important to get from one house to the other so not miss MB.
I donít even remember the time this would play. Seems like after I watched a show like the Flintstones cartoon. It is wonderful how the net can help to let people relive experiences and memories. I didnít own a Mr. Bingle until 1983 after my first daughter was born. A family member was heading off to the mall and I asked her to check and purchase a Mr. Bingle for me. I think this one was purchased in Baton Rouge,La. at the Cortana Mall. That is the only one I had until this year 2002 when my sister in law went to LAKESIDE and bought one for me as a gift for helping with an upcoming family wedding. I also recently purchased a 1987 MB like yours from a lady in Texas. The tag still intact. It is in excellent shape. So now I have 3.
Rose Hebert
School Teacher
Thibideaux,La.
Mrs. Bartsch story:
Okay, y'all, I can finally share something of my New Orleans experience with all of you. I am old enough to remember Mr. Bingle, I had my picture made with Santa and Mr. Bingle at the store when I was a kid. Mother said Maison Blanche had the best Santa, but DH Holmes's Santa wasn't too shabby as I remember. I have a succession of pictures of me sitting on Santa's lap with Mr. Bingle in the background. One year, they put a guy in a Mr. Bingle suit and he walked around the store giving candy to the kids. He gave me a peppermint and I sang
"Jingle, Jangle, Jingle
Here comes Mr. Bingle,
With another message from
Kris Kringle..."
everybody laughed, and I got all embarrassed. But I still remember how much fun it was to go Christmas shopping in the city. How lucky I am not to have missed it.
Allison Bartsch
Longview ,Tx.
Dixie's Story
From a Memphis,Tn. view...(Lowensteins)
I grew up in the fifties and Mr. Bingle was part of Christmas for me. We didn't have a lot of cartoons on TV- -actually there wasn't much TV then, so that small bit about Mr. Bingle was great. It seems he always mentioned seeing him at Lowenstein's store window in downtown. My Daddy worked downtown and we shopped there a lot. All the kids would gather around the store display window and the Mr. Bingle marionette would tell a story and talk. It was broadcast through a loud speaker. They did this several times a day. As an adult I had a friend who used to work there. She gave me a Mr. Bingle--she had 2. Up until then I didn't even know you could get them.
"I was occassionally Mr.Bingle"By Lauren W.
HI Tea-Nov.24th.2003
I was a member of the Maison Blanche teen board for 3 years in the 90's We participated in fashion shows, acted as Mr. Bingle and Madamoiselle Blanche and participated in other special events. I played Bingle countless times- it was wonderful! I have so many stories and fond memories of Mr. Bingle, far too many to go into detail in this one email! I still have the newspaper clipping from Maison Blanche's 100th and Bingle's 50th anniversary and the parade that circled around the store and concluded on Canal street.
Mr. Bingle breakfasts were another fond memory, as were the yearly trips to Children's Hospital to deliver gifts. I took part in this for all 3 years that I belonged to TB. I love reminiscing about Bingle!
This is a picture of a few of the long-term members of the Maison Blanche teen board. We were all on the board for about 3 years. If you look behind us you will see a picture of Mr. Bingle- this was the first bingle costume!
This is a picture of Me (lauren WHite) and Mr. Bingle on the corner of vets and clearview. It was a freezing cold day, close to CHristmas and the shoppers were out and about. Countless people beeped their horns, screamed merry Christmas out of their car windows, or simply smiled at us. Mr. Bingle can ALWAYS bring out a smile :D (See Photos)
This is Me and Mr. Bingle walking in the parade which celebrated Maison Blanche's 100th Anniversary and Mr. Bingle's 50th birthday. It was so much fun! I still have the clipping from the times pic somewhere.(See Photos)
Teen board members get ready for a fashion show. Notice Bingle in the back- he lived in the Fashion & special events office for many months! Sometiems he "held" things for us, as you can see we used his cone hat to drape things...sometimes we had to dig mr. Bingle out!
Every year we went to Children's and Tulane Children's Hospitals with Bingle to deliver gifts.
I don't have any pics of Madamoiselle Blanche, but she was pink and wore and ugle skirt and shall that was made out of hideously huge bright flowers! LOL. I used to work all of the Bingle Breakfasts. I worked at Clearview, though terrirory of the teen board was all of Southern Louisiana. I joined the board in 95-96.
I could tell you some funny stories about Mr. B. That costume was so awkward, many times we had to change into it in the car or mini van of our directors (when we went to public appearances) or we had to wear it to the appearance. Mr. Bingle's head was too big to stand straight up so it was always so hilarious trying to get it on. And in the cases that we actually wore the head to where we were going--- well you should have SEEN the look on some of those people's faces! LOL As I said, Bingle was awkward. He used to get stuck between sales racks a lot, you couldn't see ANYTHING out of those eyes so we had to be escorted (sometimes I was an escort). Bingle tripped, he fell down stairs, he knocked things over, got stuck in some tight places, and tried oh so hard to hold on to squirming babies (Mr. Bingle's Biggest nightmare came true every time mother's asked Bingle to hold their new borns for pictures- Mr. Bingle has mittens...not hands. And his mittens are stuffed with lots of filling so it's like trying to hold a baby with two pillows on your hands).
Being bingle was fun tho. WHen you put on the costume, you BECAME bingle. I did things in there I would NEVER do in real life- silly dances, over exaggerated body language, snuck up on people, etc. It was a blast! As you know, every year they put out a different bingle. Even though they look mostly the same there are subtle differences, different color mittens (some are solid red, others are red and white striped- the way they are supposed to be). Wings are different shades of green, eyes different blues, etc. As you know with the costume, Mr. Bingle gained a substantial amount of weight over the years. He started out as a basic fur costume that basically hung on the person's body. Over the years they included more stuffing, they added a vest, his eyes looked different, and so on.
I've always loved Bingle as well. I got a Bingle when I was really little. I still have him in the closet someplace. I Remember going to MB all the time and getting a Mr. Bingle Ice cream (I KNOW you remember these, the scoop of vanilla ice cream, 2 blue bubble gum eyes, a cheery nose, and icing for the mouth and wings.)
Jingle Jangle Jingle here comes Mr. Bingle With another message from Kris Kringle... I cannot remember the second stanza. But they used to sing it when we were in costume all the time. LOL!
Bingle Brings the world together. I think we should send a plethora of Mr. Bingles around the world to all of the leaders and dance around singing the Jingle- I think it would make world peace break out instantaneously. :D
I would NEVER part with my Bingle stuff. I want my kids to know Mr. Bingle for who he REALLY was... and the way he really was.
I guess people just took for granted that the catalogue would always come, the puppet show would always air, and Mr. Bingle would always live at Maison Blanche. They just didn't realize how special he would become.
Lauren W. (Metairie,La.)
Red Plastic Phones....Remember?
Let's see, I had to have been around 7 or 8, and we went down to MB for Christmas shopping, and right when you first walked in, there was a big square box with the giant Mr. Bingle on top, and there were red plastic phone handsets on each side. Maybe two or three on each side of the box. I THINK there may have been a TV set built in playing either a cartoon, or the puppet show, or something, but that part is too vague in my mind. I clearly remember running up to the kiosk and picking up the phone and hearing "Hi! It's Mr. Bingle!" and then I missed most of his Happy Holidays message because I was too busy turning around and telling my mom "MOM! IT'S MR. BINGLE!!! IT'S REALLY HIM!!" Aah, the excitement of youth. Then I remember being dissapointed because I tried to ask him something and the message just looped and played over again, and I realized it was a recording. Bummer. What a let down. I really thought I had him on the line. Then my mother dragged me off to buy a Christmas dress, which was great because it was blue velvet with about seven layers of lace around the bottom. I still have a photo of me in that dress. My husband says he met the puppeteer for Mr. Bingle. He used to go to this preschool that was run by Nuns, which was close to Camp street. Anyway, when he was around 5 years old, the guy came there to show all the kids the puppet and to talk about doing the show, and to let them see how Mr. Bingle worked. Val (my husband ) says he remembers that he got to shake hands with Mr. Bingle, and his operator! He says he remembers being crushed when he saw that this man talked for Mr. Bingle, and that Mr. Bingle couldn't really talk for himself!
I'm glad that someone has taken charge of organizing these memories for all of us. Thanks, you are doing us all a great service.
Keep in touch,
Kara & Valentino Gutierrez
If you would like to make a voluntary 2.00 contribution to help support this site.It would be appreciated.If so click here .All contributions above that go to the Spirit of Mr. Bingle Tree Program. The Spirit of Mr. Bingle Tree Program each year at Dillards helps provide toys to underpriveleged children.It is put on by the Salvation army.I am not a non -profit organization but I do participate in the tree program and will publish on the site after Christmas what was made possible by the efforts of this fan club site contributors.This is strickly voluntary.Or you may go to Dillards and participate yourself if you like.Keep checking local New Orleans paper for dates of this event.I believe it is in November and I'll keep you posted on the message board.
To Join Mr Bingle Collectables Club for free go to "messages"